Shepherds – London's Artisan Bookbinder
Shepherds is one of only a handful of fine bookbinders left in London. Escalating rents have forced most binderies out of the capital over the last few decades and many have closed completely. Surprising, then, that Shepherds should have set up in such an ancient yet commercially declining craft as relatively recently as 1988.
Book dealer and restorer, Rob Shepherd, opened in Rochester Row to sell bookbinding materials and stationery alongside a bindery workshop re-covering and restoring collectors items ready for sale. Ten years later, Rob was fortunate enough to acquire a significant share of the trade's history and heritage when Asprey went on an asset-selling spree and Shepherds bought two of the oldest and most prestigious bookbinders in the country, Sangorski & Sutcliffe (est. 1901) and Zaehnsdorf (est. 1842).
Fortunately, Rob and his team rescued much of Sangorski & Sutcliffe's archive from a skip and were able to catalogue more than 15,000 precious items. It is now possible to trace the company's most famous bindings through every process, thanks to surviving records such as timesheets, photographs, binding instructions and tooling patterns. Rob has researched S&S's history and written a book about Francis Sangorski's most famous jewelled binding – a copy of The Rubaiyat of Omar Khayyam that sank with the Titanic en route to its purchaser in America. By tragic coincidence, a couple of months later, Sangorski himself died while trying to save a drowning woman. This exceptional and exquisitely beautiful binding seems to have carried something of a curse.
George Sutcliffe's nephew, Stanley Bray, who ran the company for forty years, created an almost exact replica of the original. During WWII, it was stored for safekeeping in the Bank of England. Ironically, the S&S premises were unharmed but the Bank was bombed and the lead casket in which the book was kept melted, leaving only the jewels intact. Stanley rescued them and made a third, different incarnation of the binding many years later and that is now kept in the British Library where, with a bit of luck, no harm will come to it.
Rent increases have now forced Shepherds to downsize, squeezing people and equipment into barely one tenth of the space they once occupied. Although a second workshop in Wiltshire provides overspill and produces most of their Japanese paper-covered storage and gift boxes and bound notebooks. It also houses the Wiltshire Barn Project, which trains wounded ex-servicemen for a rewarding change of career.
Another challenge is in sourcing the highest quality materials. For instance, the price of 24-carat gold leaf has tripled over the last seven years. Alison also explained that bookbinding leather must be made from goatskins that have been treated with non-corrosive, vegetable-based substances such as sumac.
The best examples come from Nigeria but "we are in such a tiny, niche market that suppliers are rarely interested in meeting our stringent requirements. There is also bribery every step of the way and, over the last ten years, it has become extremely difficult. We've started to import from India but the animals are not cared for as well and have more insect bites and scars from barbed wire". Despite this, Shepherds continues to turn out the finest bindings you're likely to see and Alison cites only The Wyvern Bindery in Clerkenwell, Peter Harrington's Chelsea Bindery and George Bayntun of Bath as practising the same standards of skill, creativity and craftsmanship.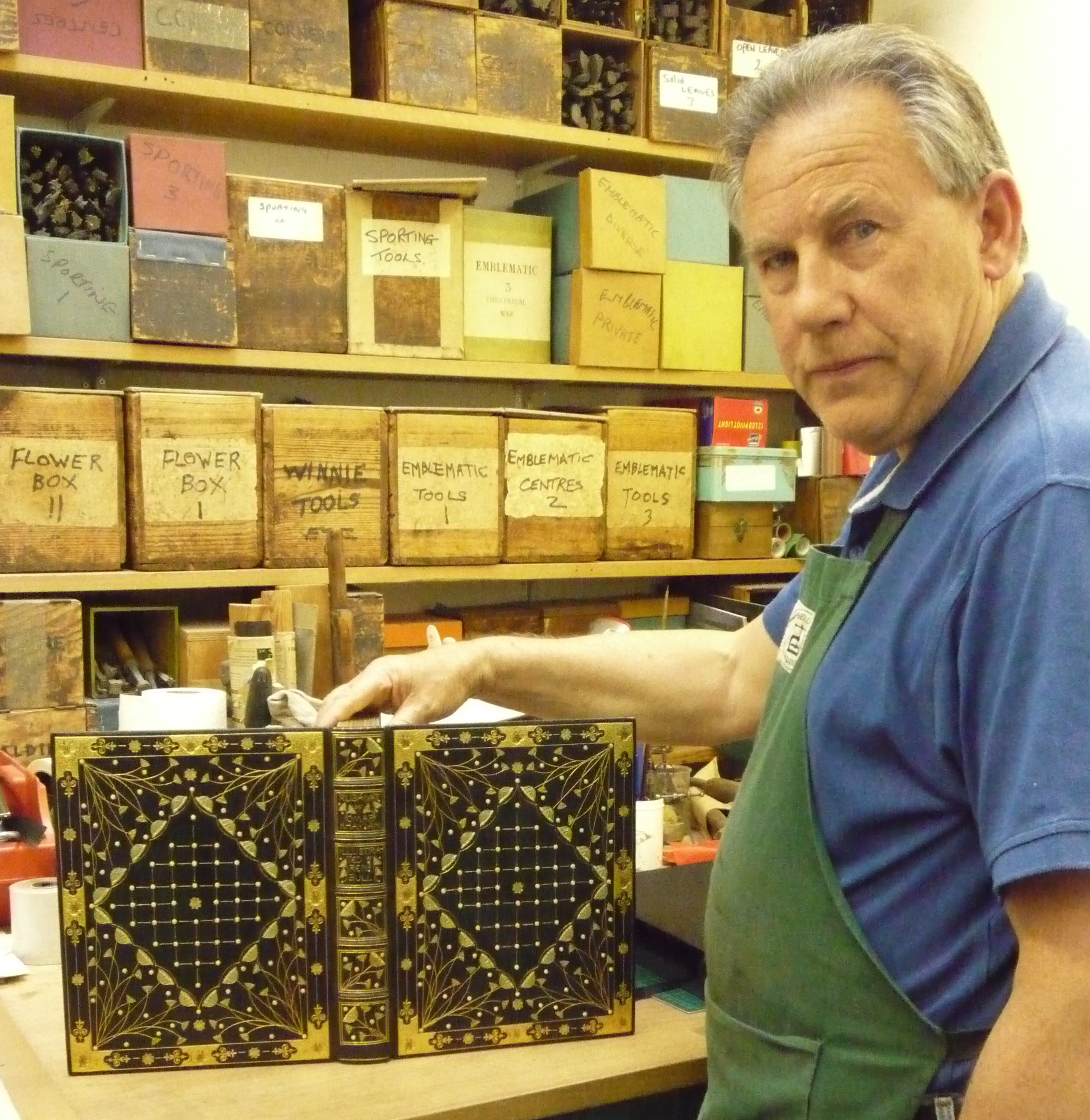 John with his copy of The Rubaiyat of Omar Khayyam
No wonder, when you consider that many of the Rochester Row staff have been in the trade all their working life. On my visit, Janet is catching up with The Archers while hand-stitching a special edition of the 18-volume Ian Fleming canon commissioned by the author's nephew; Tony is making leather-bound boxes; Mick is covering a ledger binding in soft, red leather (forwarding) and Derek and John are adding gilding and other decorative embellishments (finishing). Between them, they have a couple of hundred years' worth of skill and expertise. In November, John will celebrate 47 years with S&S and Shepherds. He started his career there earning £5.10 shillings a week and he's not sure exactly how many books he's completed but his nipping press is showing 871,000 pressings and has already been round the clock once.
He works mainly to the designer's specifications but sometimes creates his own from scratch and proudly shows me an ornately gilded tome (another edition of Omar Khayyam's Rubaiyat). Derek is using gold foil to decorate a copy of Shelley's Frankenstein and explains that it takes time and a certain amount of ruined leather to learn how long the tools must be cooled before applying them to the book. "There's a shortage of people with the length and breadth of experience and expertise of our staff", explains Alison. This work carries a five-year apprenticeship, which represents a huge investment for the company but, as craftsman like John and Derek edge closer to retirement, there is pressure to bring on the next generation. "He makes tooling look easy", she says of John. "But it isn't. What we do is hugely disciplined and labour-intensive. When people are alarmed by the price, I explain that, hour for hour, it equates to the charge-out rate for a car mechanic".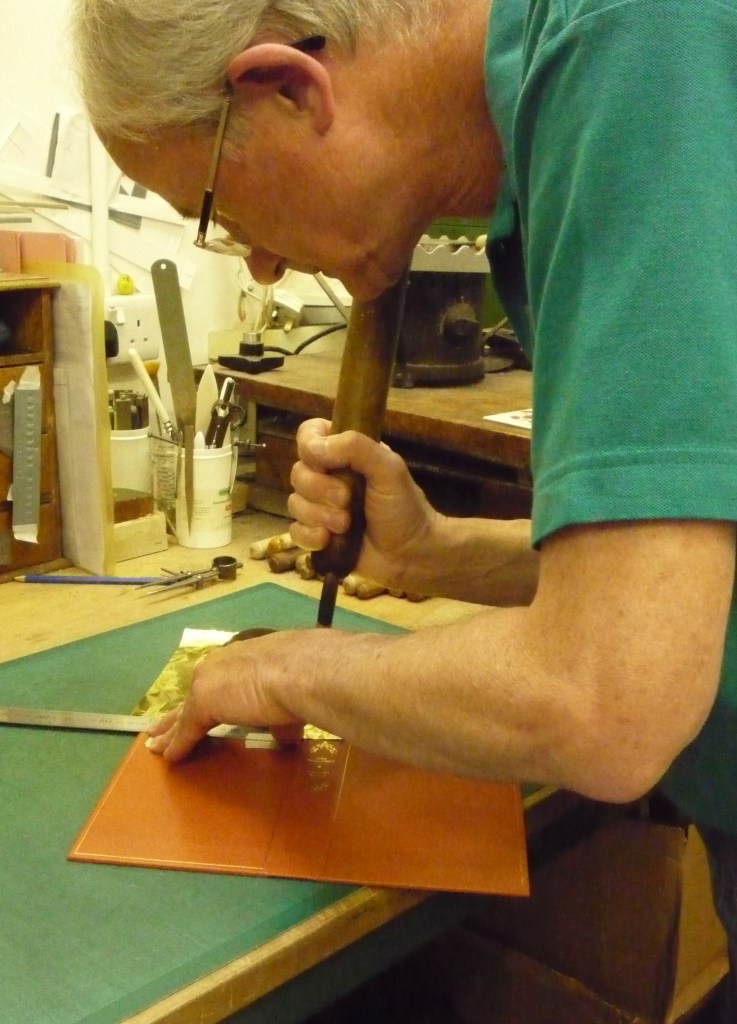 Derek working with Gold leaf

So who are Shepherd's clients?  "An eclectic mix. We take on the one-off jobs that mainstream binderies won't touch. We used to do a lot for the British Library but we don't cut corners or compromise our standards and we became too expensive for them". As well as commissions from publishers and wealthy collectors, they create showcase items for designers, architects and students and do basic binding as well as the more elaborate, luxury projects.
Clients are often private individuals who have written a book of their own, little old ladies who want their Bible restored or even couples who want to give bound collections of their emails to their other half as a wedding present. Alison is the very soul of discretion when it comes to name-dropping but did divulge that they had a royal commission last year, for a book on the Queen's mulberry trees at Windsor.
There is also a busy restoration and conservation department, overseen by Dan who, on the day I visited, was working on the Gentleman's Magazine. He is restoring all 266 volumes of this late 18th to early 20th century periodical for its historian owner. In-between those volumes, he was planning to tackle a book of Flaxman drawings, valued at £250,000, that had been chewed by a dog. Again, there is a mix of individual and institutional clients. "The smaller organisations without in-house restorers, such as the RHS, lean towards conservation. The (antiquarian book) trade prefers everything to be restored with a capital R".
These are books not only to read but to treasure. To take down from the shelf purely for the pleasure of holding. Collector's pieces to hand down through generations. I urge you to visit the fine bindings shop in Curzon Street and the bindery in Rochester Row, where they are happy to give tours by appointment. If you're inspired to have a go yourself, they run courses, where you can learn anything from bookbinding and box-making to calligraphy and linocut.
There is also a new flagship store selling fine papers, stationery and binding materials in Victoria's Gillingham Street. Amongst many other delights, they stock a huge range of hand-made Chiyogami and Katazome-shi papers, with patterns originally based on kimono textiles, all of which can be used for anything from covering books or lampshades to papering walls.  And, if you're tired of the same old offerings from the greetings card chains, they have a fine selection to choose from here. Finally, if you're looking for something interesting to do this weekend, check out Shepherds at stand number 550 at the London International Antiquarian Book Fair at Olympia.
Ruby Card