Theatre of the Damned
It all started, as these things often do, with a couple of talented young Oxford undergraduates with a talent for messing about on stage. The fellows in question are Tom Richards and Stewart Pringle, co-founders of Theatre of The Damned, a small fringe company specialising in horror, suspense and the macabre and their inspiration was a cult theatre in Paris by the name of Théâtre du Grand Guignol.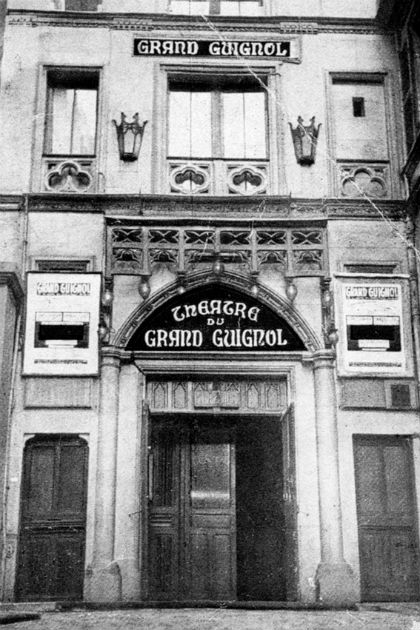 This legendary establishment ironically occupied a converted chapel in the heart of the red light district and terrified and entertained in equal measure from 1897 to 1962. Founded by a former police secretary and follower of a late 19th century theatre movement known as Naturalism, it began by staging subversive drama that explored the seedier side of life – poverty, deprivation, disease, prostitution and all that jolly sort of stuff. The theatre soon fell into the hands of one Max Maurey who was not inclined to do things by halves and added melodrama and sensationalism in spades. Under Maurey, the theatre's fame (and notoriety) spread throughout Europe and beyond and the term 'Grand Guignol' became widely used to describe any form of violent, bloody spectacle or entertainment. This, in fact, did serious injustice to the genre that Maurey created, reducing it to its lowest common denominator. Under his and his successors' directorship, Théâtre du Grand Guignol acquired a team of talented and prolific writers along with ingenious special effects and set designers, not to mention the actors, who convincingly endured a grizzly fate night after night. Leading lady Paula Maxa is said to have been murdered on stage at least 10,000 times and raped more than 3,000 times. Quite an achievement by anyone's reckoning. At each performance, the audience was treated to a selection of short but skilfully written and staged plays. A typical bill opened with a sexual farce, followed with a psychological thriller and climaxed with a no-holds-barred, gory slice of horror.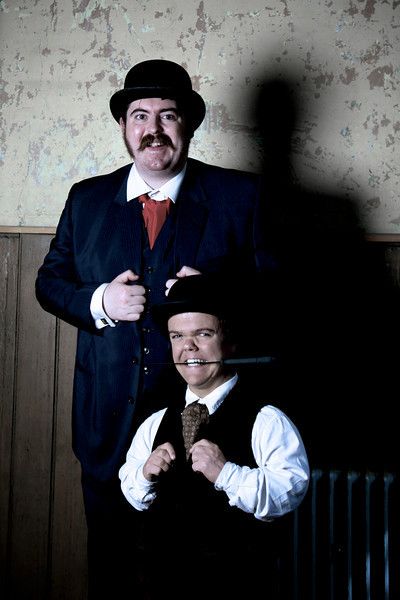 The Horror! – Tom Richards & Ben Goffe 
It is in this spirit that Tom and Stewart launched Theatre of the Damned with the aim of resurrecting this singular style of theatrical entertainment. By the time they met at Oxford, both had already flexed their dramatic muscles at school so they threw themselves into acting, directing and writing alongside their academic work.  Tom was studying French and Philosophy but, by his own admission, "not very hard or very frequently". He had already spent his gap year in a full-time drama course and was bent on a career in stage or film. Stewart, on the other hand, was studying literature with rather more application and entertaining thoughts of an academic future. They met on a production of Othello when Tom was peeved to discover that "this skinny little, long-haired bastard" had landed the role of Iago, on which he'd set his sights. Despite this unpromising start, they soon became firm friends and discovered that they shared a passion for the unnerving and horrific. Their first joint project was, however, of a very different ilk. Stewart's desire to stage Top Girls in an effort to exploit the wealth of female acting talent at Oxford was mis-heard and, to cut a long story short, they staged a bizarre production of Top Gun (yes, Top Gun) at the Oxford Playhouse's Burton Taylor studio – as rare an example of physical-musical theatre as you're likely to find. Thankfully, they are now firmly back on-genre.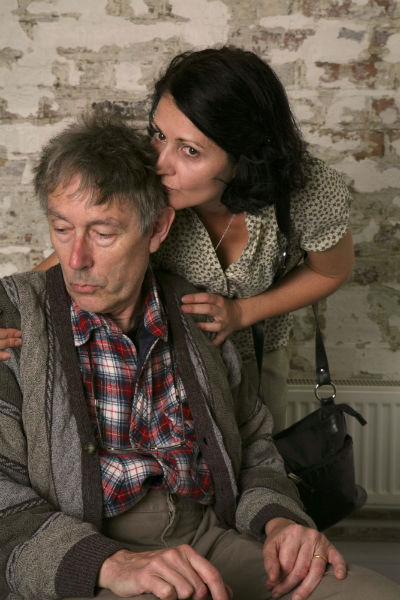 Jeffrey Mayhew & Scarlet Sweeney in As Ye Sow
Post-Oxford and now both living in London, Tom and Stewart decided it was time to fill what they saw as an inexplicable gap in the fringe by setting up a specialist company as a vehicle for the material they were now writing as well as to revive the Grand Guignol pieces they loved. There had been many attempts to create an English equivalent during the Théâtre's heyday, some driven by leading figures such as Noel Coward and Sybil Thorndike, but all were nipped in the bud by the heavy hand of the Lord Chamberlain. By the time the stage was free of his censorship, film and television had taken over, leading to the original theatre's closure. Britain's Hammer films had become synonymous with horror in this country and stage versions were few and far between – Sondheim's "Sweeney Todd" being a rare example. So Theatre of the Damned was born. Actually, on reflection, it probably burst out of a coffin.
A couple of classic Grand Guignol shorts for the 2010 Camden Fringe Festival were so well-received that they returned to the Etcetera later that year for a three-week run.  This included a revival of Crime In A Madhouse by the Grand Guigol's foremost writer and one of their strongest influences, André de Lorde. Then came the more ambitious first ever London Horror Festival – a multi-media smorgasbord of all things uncanny and unnatural for which they persuaded king of toxic schlock, Lloyd Kaufman, to introduce a screening of one of his films. The festival was headlined by their own "Revenge of the Grand Guignol", which ran for five weeks at the Courtyard Theatre in Hoxton. Stewart went on to develop one of Revenge's most affecting stories, As Ye Sow, into an hour-long play depicting the mental degeneration of a man in a care home "as a fear he thought he'd buried long ago begins to drag itself from the earth". Shudder… They took this to Edinburgh's Pleasance for the 2011 festival, where it attracted critical praise and award nominations.  The lead roles of Clifford and his daughter were played by Jeffrey Mayhew and Scarlett Sweeney, both of whom have become important members of the growing Theatre of the Damned team, who have all perpetrated and/or suffered unpleasant deeds, fates and ordeals. Damned actress Kate Quinn, for example, may not quite equal Paula Maxa's record as yet, but she can claim to have been mutilated and despatched in an impressive variety of ways, including having her features rearranged by a circular saw. Some girls have all the luck.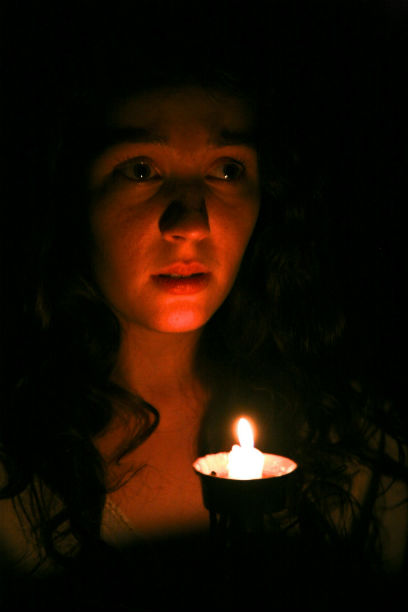 The Horror! Kate Quinn
For Halloween 2012 and as part of their second London Horror Festival, they created The Horror! The Horror! – a bespoke promenade show for Wilton's Music Hall, described by The Times as "grisly acts of violence, demonic laughter and a generous slug of sauce". The genre is riddled with technical and stage management challenges and The Horror! proved particularly testing. Many was the afternoon whiled away mixing endless batches of blood, only to find it was the wrong consistency, resulting in an unseemly splatter or a disappointing dribble when a good, old-fashioned, viscous ooze was called for. Not to mention the bill for veterinary tubing and syringes which, as always, brought tears to their eyes.
In stark contrast, Theatre of the Damned's latest production uses no special effects, tricks or devices. Instead, it is a return to the craft of pure story-telling, relying on the power of its text and acting to tell an absorbing and sinister tale. The Ghost Hunter is written by Stewart Pringle, performed by Tom Richards and directed by Jeffrey Mayhew with a script that is Stewart's most compelling to date. He cites his main influences as M R James, Saki, Conan Doyle and H P Lovecraft but Tom and Jeffrey maintain he's also channelling J B Priestly with a nod towards Alan Bennett and the Ghost Hunter has turned out to have it's fair share of laugh-out-loud moments. For Tom, the hour-long, solo performance in the role of Ghost Hunter Dick, a man who is, shall we say, beginning to be affected by his work, is daunting. "This is beautifully written and skilfully directed so must be word and gesture perfect if it isn't to detract from the script and the journey. Every single word counts". As director, Jeffrey is indebted to his extensive work with the award-winning master of solo theatre, Guy Masterson, and insists that "No-one knows more. He showed me the importance of incorporating the full dramatic range into a solo performance – it's Ben Hur in miniature, where the tiniest movement of a finger assumes all the significance of a chariot race".  For the company's Producer, George Warren, The Ghost Hunter is "A dream come true – a show that costs almost nothing and can be packed up in a bag and taken on tour!" Which is precisely what they aim to do.
The Ghost Hunter runs at the Old Red Lion Theatre, Islington, until 25th May and, judging by early reviews, will sell out fast. Catch it before it closes. If you dare.
Ruby Card
This article was originally published by The Holborn Magazine.